The Yolo Curve Lipo Laser
Yolo Curve is the flagship lipo laser machine produced by the Canada-based Yolo Medical group. Their technology is a patented one - one of the very few laser companies that have a patent around their brand. They do a very good job in targeting the subcutaneous adipose tissues (the fat cells lying under the skin), and melting it away.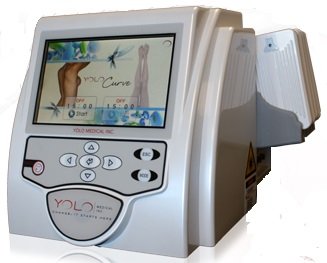 Yolo Curve is one of the great lipo laser machines that is also FDA cleared, beside being patented. It is also approved as a device that can raise the body temperature for relaxation, relief of joint pains and reducing muscle stiffness, which is great.
The Yolo machines are accompanied with 4 strong paddles, that comprise of diodes. The egg-shaped curve that they have designed for optimizing the body contouring, is excellent for skin penetration.
I seem to get only positive feedback for Yolo Curve machines. Yolo machines appear in a number of trade shows and health expos, which makes them well-known. Hence I get a lot of phone calls asking from people looking at Yolo, asking me whether they will be suitable, what do I feel about these etc. A lot of clinics (doctors) also use Yolo and have good feedback.
Yolo is not as fast as a third generation machine, but does not need much maintenance either. You don't need to service this once a year or something. Priced at $48,500, this is expensive (call us for discounts at +1-888-547-5296) but the quality is well worth. If you are a clinic planning to buy a Yolo Curve machine, plan to have 20-30 minute sessions per patient. If you are a patient looking for a non-surgical lipo treatment, I do recommend clinics that use Yolo, and note that while the price charged by these clinics will be higher than the cheap clinics using low-end machines, the end-result will be well worth it.
Will Yolo Curve be the best machine of your choice? I suggest you take the quiz here and I shall help you pick your most suitable model based upon your answers, the quiz is meant for both patients and clinics.
Price
Before discounts: $48,500
After discounts: Contact us (+1-888-547-5296)